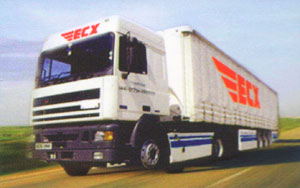 Trucking Services
ECX Global maintains a fleet of commercial trucks to provide superb interstate transport services for both bonded and non-bonded cargo. To enable easier tracking and monitoring by our offices strategically located throughout Peninsula Malaysia, each truck comes with modern telecommunicatios equipment.
With our bonded trucks, we can offer cost-effective service for deliveries not only on a chartered basis but also on consolidated consignments from ports to industrial parks to the most remote destinations and vice versa. Combined with our warehouse and distribution facilities, we are able to play a vital role in supporting the goverment's initiative on raising the strategic value of Port Klang as Malaysia's Gateway to the World.
Scope of Work
Organization and execution of road transportation throughout nationwide/Singapore/Thailand. Solving customer specific problems in road transportation through planning and implementation of complex logistic services.
Transportation Domestic/Cross-Border (Thailand/Malaysia/Singapore)
Part and full loads
Internal transports (shuttle)
Bulk transport
Heavy lift and out-of Gauge transport